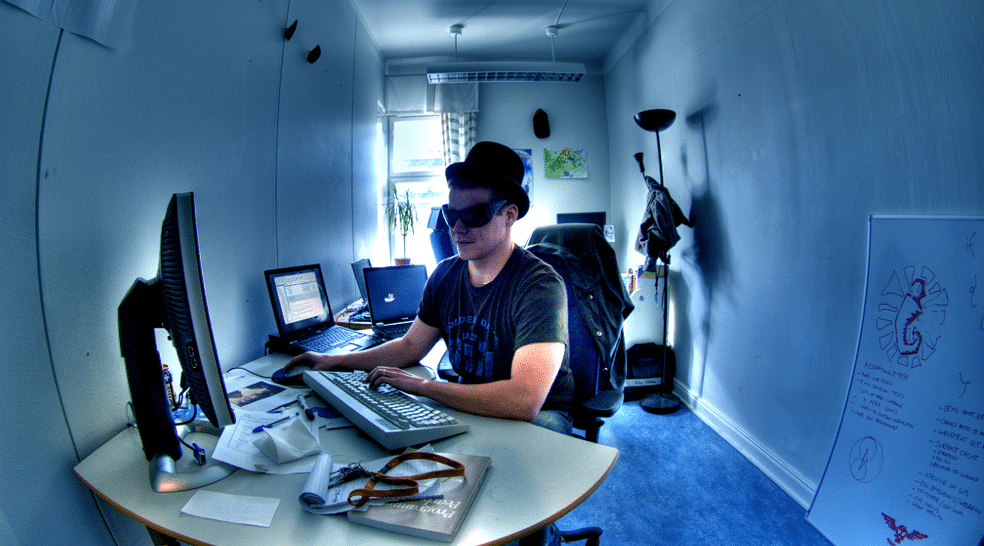 (Image credit to Ville Miettinen)
It's time to create a website for your business or project, and you want to make sure it's built to perform well on search engines.
This is one of the questions I receive the most (at least a few times a week), so this writeup is geared towards those with a new website in the works, and for those looking for a checklist of website elements their site have to ensure it's success.
So how do you go about building it with SEO in mind?
1. Build a blog
Many business owners have a hard time wrapping their head around why they'd need a blog; it's hard to see the value in blogging, especially when it has to do with things like social media, discussion, and other things that don't seem to directly translate into dollars in the minds of CEOs.
A blog will help keep your website fresh, and in the eyes of Google, every new great piece of content is making your site bigger and badder. Authority sites may publish 10+ new articles every single day, which is why they get millions of visitors every month. Google has been known to favor sites that are "fresh" and regularly updated, and a blog is the easiest way to take advantage of these benefits.
Lastly, by exploring new topics in your industry, you'll be getting new visitors on your site that would have never found it in the first place, who may end up turning into a paying customer. Every new blog post is another hook in the sea; just remember that you want quality over quantity, as low quality blog posts can actually work against you.
2. Make sure your website isn't thin
Google considers sites with only a few pages "thin". Spammy or lower value sites are often only 1-5 pages, and they are more hesitant to give sites like these any kind of real authority.
Sites that are much more established and are larger will easily overshadow a site that is micro in comparison. Make sure your site has a bare minimum of 10 pages; if you're coming up short with ideas for more pages, check out the next point in this article.
3. Have all "important" pages covered
It's a known fact that Google Adwords surveys sites to see if they are a legitimate site; things they might look for are: Terms of service page, Privacy policy, contact, about us, frequently asked questions, services, location, etc.
If Google Adwords takes these pages into consideration, there's a fair chance that having these pages is important too when Google is determining if your website is a legitimate business. It will also help establish your website architecture and put some meat on your website's bones.
4. Link to your social media pages
Having social media pages is a very important signal of trust to Google; if a business is real and legitimate, it will probably have a regularly updated Facebook, Twitter, Linkedin, Google+, and possibly other social media pages. Linking to these will affirm the relationship between your business and your official company pages, and can work in your favor SEO-wise.
5. Have ample content on your homepage (minimum 600 words)
It may be hard to rank your website for certain keywords related to your business if your homepage is primarily images, videos, or media.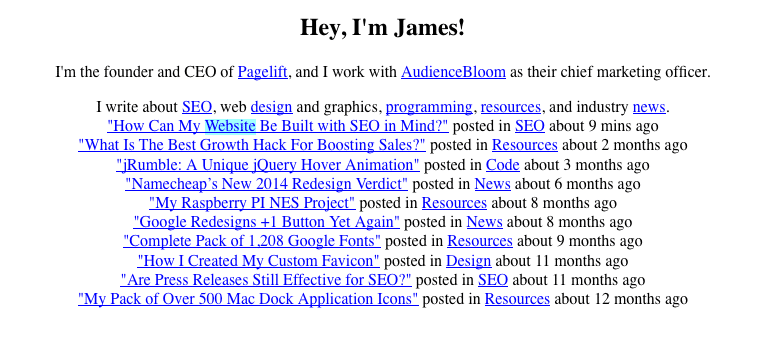 This image is an example of what Google might see in a media/rich website; their spider understands what images are, but if the site has very little words or content, it could be considered low-value. Google is largely a text-based crawler and is looking for quality content on your site.
Having great content on your homepage will work in your favor, as long as it is relevant and high quality. Droning on about your product or your business or how you're the ultimate authority for a certain product isn't a good way to add value to your homepage; think a short description of services, testimonials, reviews, product highlights, a "short about us" blurb, address/location details, and other pieces of content that add value to your homepage without being spammy or boring. You want to cater to your visitors first; that's what Google cares about.
6. Create a sitemap and submit it to Google Webmasters
A sitemap will help Google find all of your pages on your site. Create one, and submit it to Google Webmasters (now is a good time to verify your site on Google Webmasters if you haven't already).
7. Meta titles and keyword research
Fill out your meta titles of your most important pages. With your homepage, your title could be the name of your business, along with what you do (example: CompuPros – Houston's PC Repair Shop) along with a description, which should be less than 160 characters. Remember not to focus too much on keywords here; try to fit it into your title and/or description just once in a way that reads and sounds natural.
8. Lightweight design with sprites and CSS3
Having a fast loading site is proven to increase your rankings, so a website that is bloated or has a ton of images won't rank as well as one that is built properly.
Compressing images, using CSS3 buttons instead of images, and utilizing image sprites will keep your HTTP requests to a minimum and will reduce the size of your website's footprint.
9. Clear cut navigation
Your blog is an important part of your site, so why hide the link down in your footer? Google is aware of moves like this, and places more importance on links in your main navigation and less on links in your footer (so if your link to your blog is hidden down in your footer, Google won't place much importance on your blog, making it less effective). Make sure your navigation has all of your important pages and areas of your site for your visitors and search engines to access easily.
10. Avoid duplicate content with Copyscape
Using text content that has been used elsewhere on the web is a surefire way to lower the quality of your webpage, and maybe even land yourself in trouble with a Google penalty. Before publishing or uploading content or an article, use Copyscape.com to check the text to see if it's duplicate (or if other similar copies exist on the web already), or if it's unique (no matches found).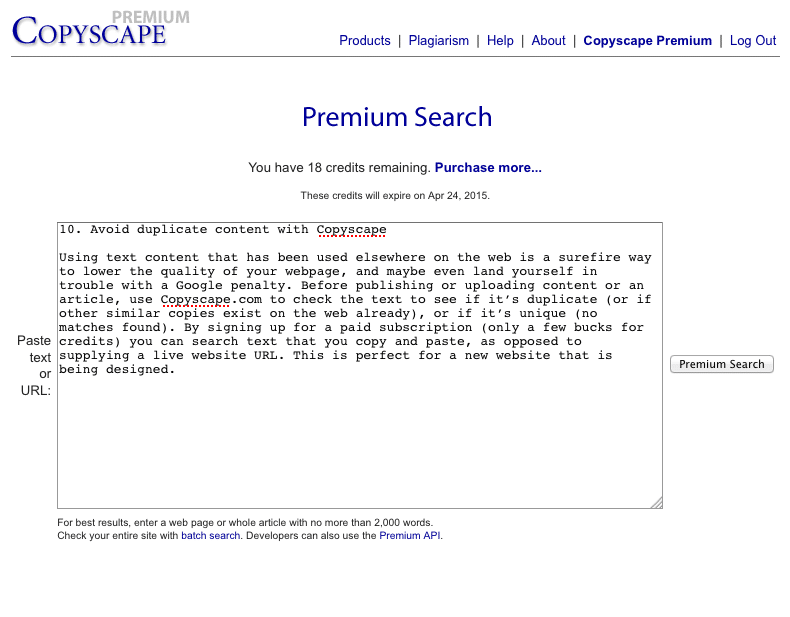 By signing up for a paid subscription (only a few bucks for credits) you can search text that you copy and paste, as opposed to supplying a live website URL. This is perfect for a new website that is being designed.
11. Don't do EVERYTHING with SEO in mind
While these guidelines are all very important with creating a strong and healthy site, don't get too carried away with optimizing your website. The biggest mistake someone can make is over-optimizing their site and coming off as trying too hard to search engines; you want a well-built website, but you don't want to cram it down Google's throat how relevant you are for certain keywords.
Did this help you? Any other SEO tricks or suggestions when building a new website? Let us know in the comments below!
Comments: